PRIOR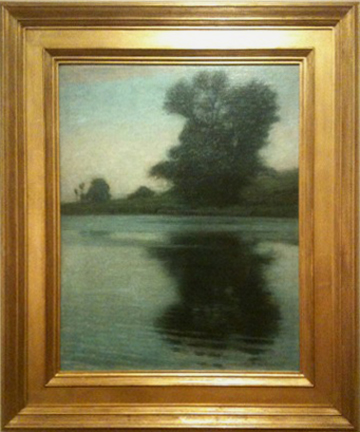 BIRGE HARRISON (1854-1929),

Silence

, 1890

Oil on canvas, 30 x 24 inches (41 x 35 inches with frame)

PROVENANCE
Private Collection

LITERATURE
Illustrated in full color on a full page, and detail on another page, and discussed in History of American Tonalism, Hudson Hills Press, 2010, Cleveland/ Wilmerding, pp. 352, 353,428, 505.

EXHIBITIONS
William T Evans to 1900, Rhoades Collection: Society of American Artists, 1891; Chicago World's Fair, 1893; Munich International Exhibition, 1895; Lotus Club, 1899; Comparative Exhibition of Native and Foreign Art, 1904. Illus H of AT and extensively discussed with period reviews, p. 324. Most exhibited painting late 19th century America, Museum Masterpiece.



NEXT