PRIOR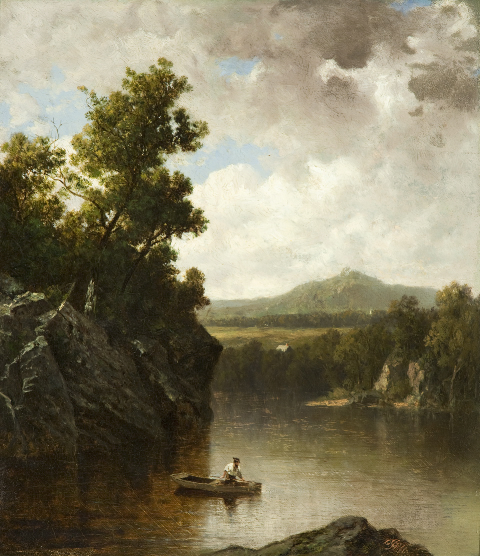 DAVID JOHNSON (1827-1908),

Scenery on the Winooski, Vt.

, 1876

Oil on board, 16 1/2 x 14 1/2 inches (27 x 25 inches with original frame)

The Winooski River is a tributary of Lake Champlain, approximately 90 miles long, in northern Vermont. Although not Vermont's longest river, it is one of the state's most significant, forming a major valley way from Lake Champlain through the Green Mountains towards the Connecticut River valley.  The Winooski River is a favorite of wildlife lovers.  As it winds its way through the densely wooded landscape, otters, deer, or even an occasional moose emerge from the woods to drink from the river.  The Winooski is a bird watchers paradise. The Great Blue Herons and Kingfishers call this river home because of its incredible fishing.

At over 4,000 feet in elevation, Camel's Hump Mountain is Vermont's third-highest mountain and highest undeveloped peak.  Moreover, because of its distinctive profile, Camel's Hump is perhaps the state's most recognized mountain.  Part of the Green Mountain range, it is one of the oldest mountains on Earth.  With its neighbor to the north, Mount Mansfield, it borders the notch that the antecedent Winooski River has carved through this area over eons.



NEXT